MUST HAVE TOOLS AND SUPPLIES
Conveniently Available At One Location To Provide Efficiency For Any Size Project.
We understand that YOU, our customer, must get the highest value for your dollar.
With our long-term raw material supplier relationships and assistance from only the best equipment manufacturers and parts vendors, we will always be your high value, low cost provider - Never at the Expense of Quality!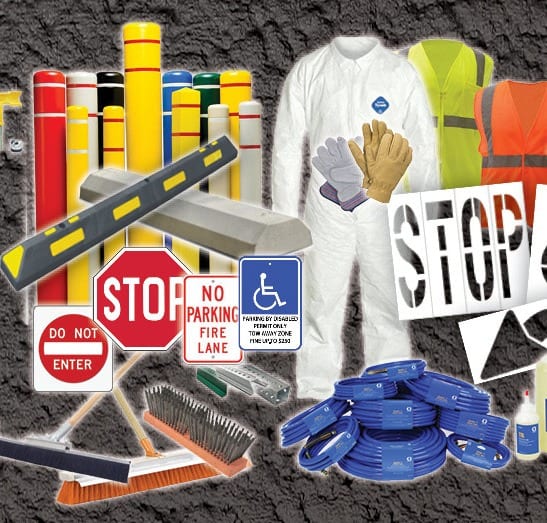 Brushes & Brooms, Lutes & Squeegees
For Sealcoat Application, Clean-up Work and Asphalt Application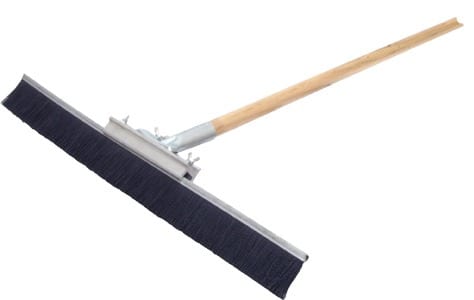 Complete Sealcoating Brush
Heavy duty seal coating brush is complete and ready to go work. The brush combo Includes handle, brace bracket, and black nylon brush head smooth application. Sealcoating brush application allows more pressure to get down into uneven pavement between cracks and crevices.
Heavy Duty Wooden Handle is 1-1/8" diameter by 6 foot with metal adaptor
Heavy duty brace with thumb screws to hold the seal coat broom firmly together
Strip brush with black polypropylene bristle
Available in 36" and 18" brush lengths
Black Sealcoating Brush Refill
Heavy duty polypropylene seal coating brush for professional results. Replacement for your complete sealcoating brush set. Brush follows the contour of the pavement better than rubber squeegees. Quick and easy to change. For sealcoating applications.

Durable aluminum strip backbone
Long lasting nylon bristles
Aluminum strip backing can be cut to size and re-crimped
Available in case quantities (12/case)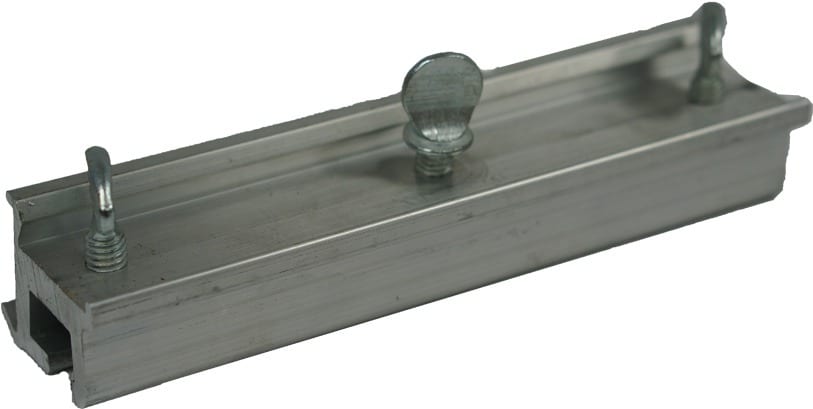 Sealcoating Brush Bracket
Heavy duty aluminum seal coating brush bracket. Replacement for your complete sealcoating brush set. Bracket allows for a rigid or flexible brush attachment. Quick and easy to change brushes. For sealcoating applications.
Durable aluminum extruded form with steel thumb screws
Can be configured in two directions for flat or sharp angle application
Available in various sizes 3.5" 6.5" and 10.5"
Complete Edging Cut-in Brush
Sealcoat edging brush is great for commercial and residential sealcoat edging and spot priming. Long lasting fiber bristles in a wide flare design that is more efficient and allows for close in edging of sealer applications. Fits any standard tapered wooden handle.
7" Brush
48" Handle
Medium stiff nylon fiber bristles
Hardwood Block
Fits most wooden threaded handles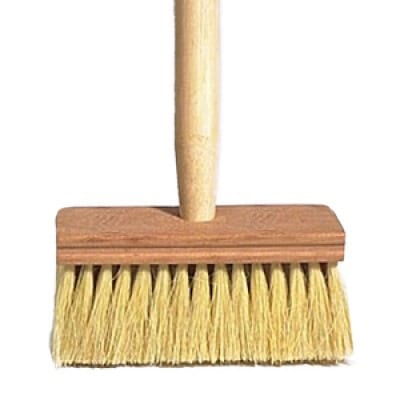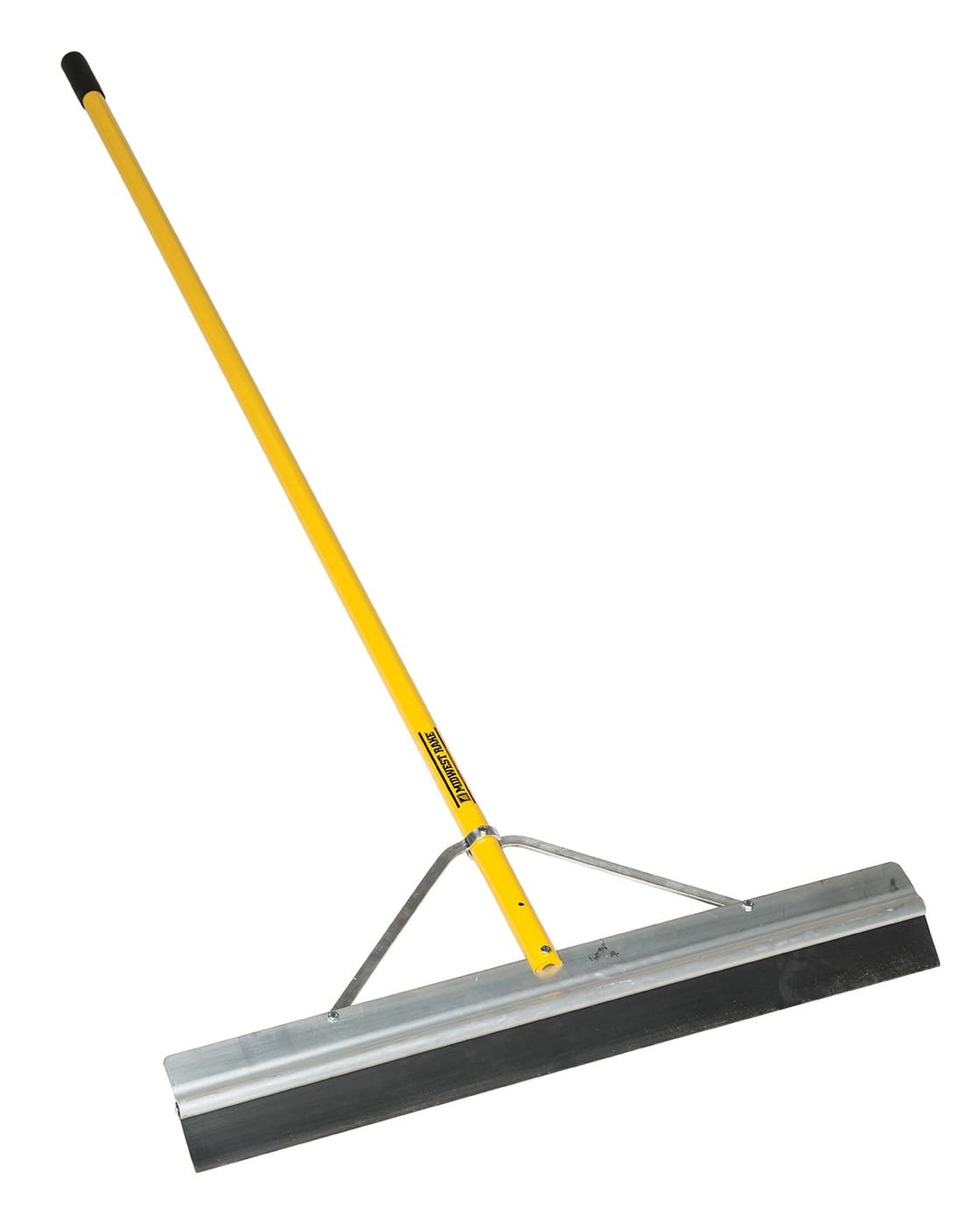 Complete Heavy Duty Squeegee
Complete Finishing Squeegee has a clamp-style sealcoating frame with wing nuts and lock washers. Sealer is easy to apply on any parking lot, driveway, or bike path when you're using this sealcoating squeegee.
66" powder-coated aluminum handle
6" non-slip vinyl grip
Head holds various size blades firmly
Complete Heavy Duty Asphalt Lute
Light weight lute and T-bar holder feels as strong as steel. Combination flat and serrated lute with large 1.5" diameter handle is best for reach with less weight.
Light weight construction for all day use
Flat/Serrated lute head with T-bar adapter design
Available in 7' pole with 36" head and 9' pole with 48" head
Handle has large 1.5" diameter pole that is easy to grip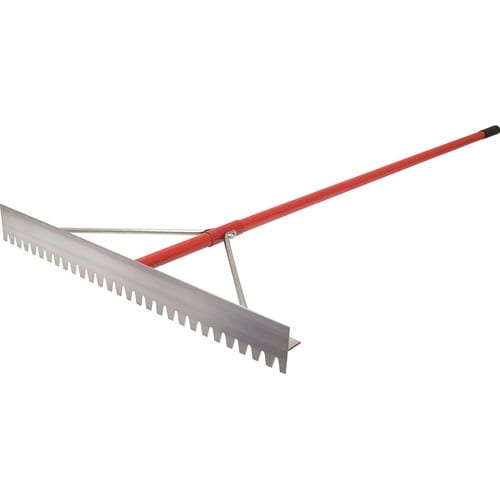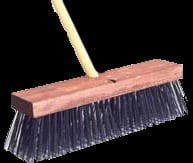 Wire Street Broom made for hard surface areas and tough dirt deep between aggregate and in pavement profile for scrubbing difficult pavement stains or ground in dirt. Stiff wire bristles do not wear easily.
Stiff wire broom for pavement clean up
Wires loosen dirt and mud from pavement and concrete
Lasts longer than other wire head push brooms
Includes 60" x 1-1/8" tapered wood handle.
Orange Nylon Street Broom
Rigid nylon street broom made for tough dirt and debris between aggregate and in pavement profile. Stiff nylon bristles last long and do not wear easily.
Stiff nylon broom for pavement clean up
Loosens dirt and debris from pavement and concrete
Lasts longer than other softer head push brooms
Includes 60" x 1-1/8" tapered wood handle.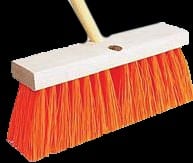 Sealcoating Tools/Supplies
Must Have Supplies On The Job Site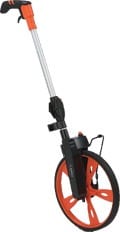 Keson Heavy Duty Measuring Wheel
This innovative wheel features a gear shaft driven counter placed above the wheel. This results in a better balanced wheel. The counter reset on the handle and on the unit housing means no more bending over, lifting the wheel, or stepping on it to reset it to zero. The brake on the pistol grip stops counting instantly. A collapsing hings snaps the wheel into the extended position with the flick of the wrist and it disconnects, rather than breaks, if you forget to press the unlock trigger.
Enhanced pistol grip

Reset trigger
Counter reset on the handle

Center line balance
Folds down to 1/2 its size
White 16 ply twine for roping off an area or closing traffic with good strength for long runs used to close off and secure work areas.
Medium weight cotton blend twine material
16 Ply cotton twine on 4 lb roll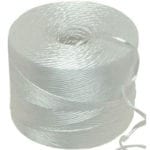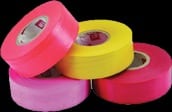 Highly visibility surveyors flagging tape made from extruded PVC. 300 Ft. rolls in vivid bright orange.
300' Rolls
12 Rolls per package
Traffic control barrier stakes for setting caution tape and marking freshly sealcoated driveways. Made with hardwoods for durability. Just pound 'em into the ground and wrap them with caution tape. Useful for eradicating the entire neighborhood of pesky vampires (CAUTION: does not work effectively on werewolves or chupacabra - unless you have mad ninja skills).
Sturdy and easy to use
Conveniently bundled
50 - 24" stakes per bundle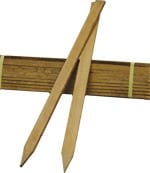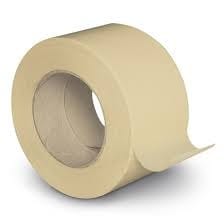 General use masking tape for paint masking and light-to-medium duty bundling and wrapping. Write on it to create temporary labels, post signs, or mark boundaries; and when the job is done, remove it without unwanted tearing or slivering. This versatile tape unwinds smoothly from the roll for good control and tears easily by hand.
3" wide roll covers edges well

Utility-purpose masking tape is crepe paper-backed

Pressure-sensitive tape adhesive

3" core fits most mechanical applicators
Heavy duty asphalt tamper has 10x10" iron head and 48" long wooden handle. The square head is used for finishing work on asphalt surfacing close up to walls and corners where mechanical rollers would not be able to fit.
Ergonomic 48" hardwood handle

Useful for quick pothole patching

Bottom is machined smooth to reduce sticking to asphalt mix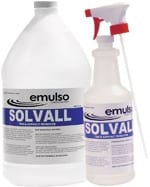 Emulso Solvall Tar Remover
Tar & asphalt remover that quickly and easily removes coal tar sealer, asphalt sealer and roofing tar from most water washable surfaces. Formulated for use on tools, equipment and vehicles. This solvent based cleaner is non-foaming and evaporates slowly. Removes tar and asphalt sealer, crack sealer, roofing tar, mastic, tack coat, or oil and grease. Used on tools, equipment, vehicles, sidewalks, flooring, siding, clothing and carpeting.
Ready-to-use, water-rinsable liquid

Available in Quarts and Gallons

Quarts have convenient spray head
The Items You Need To Keep Your Crew SAFE!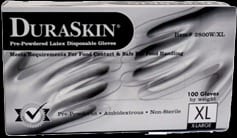 Tan industrial grade nitrile gloves. 4mil thick disposable pre-powdered, non-sterile with micro-textured finger tips. ISO 9001 factory approved.
100 gloves per dispenser box
Ambidextrous
XL Size
Heavy Duty Blue Work Gloves
Split leather palm, leather index finger, leather finger tips, leather knuckle, striped cotton back, rubberized safety cuff. Perfect for labor workers, shoveling, brooming or handling hazardous items.
Made with economical cowhide shoulder leather
2 1/2" starched safety cuff
Gunn pattern with fully lined leather palm and thumb
Striped cotton back with elastic for better fit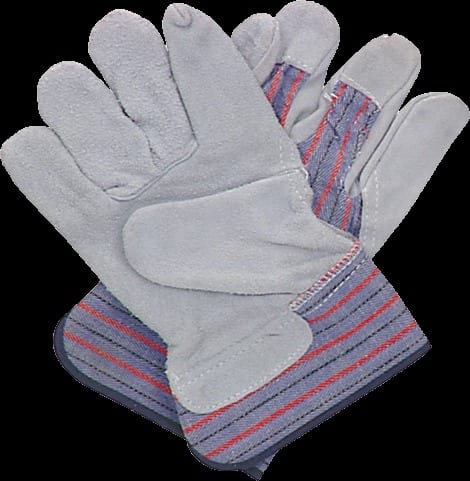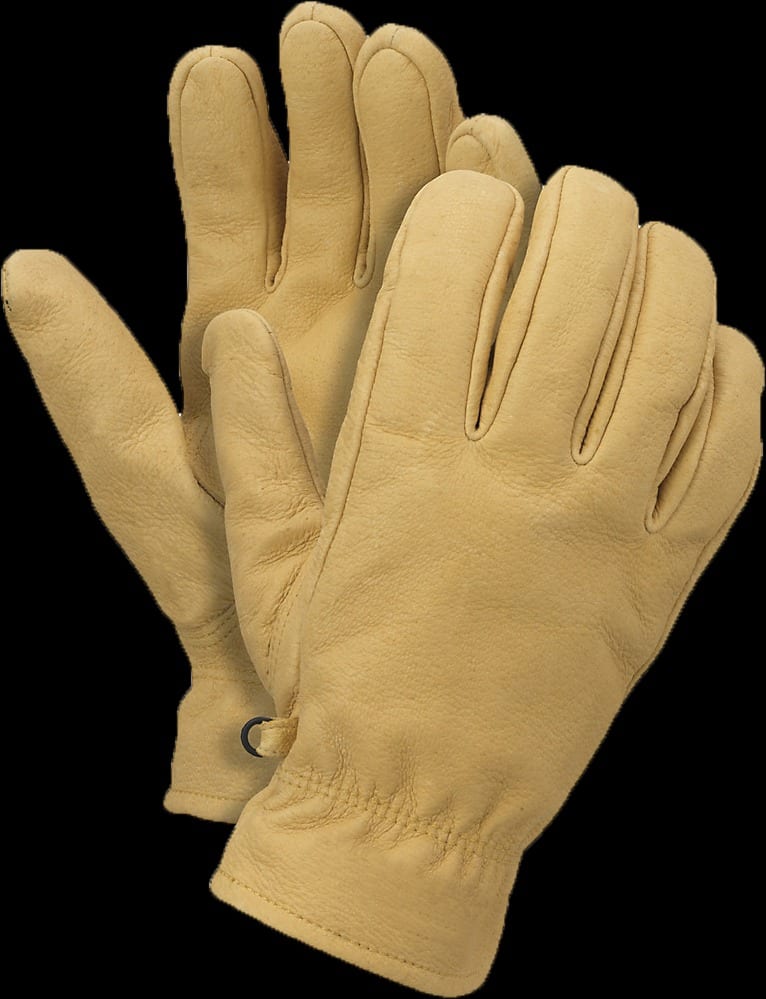 Quality leather gloves for simple yet durable protection. Functional genuine leather gloves for the worker that prefers all day comfort. Classic glove shape and ergonomic thumb.
Made with premium leather
Elastic cuff
Reinforced palm
Striped cotton back with elastic for better fit
Tyvek coverall spray suit is a non-woven material made of spunbound polyethylene fiber which offers comfortable protection from paint, tack coat and sealcoating. Low linting, its tough and tear resistant for extended wear to last through the job.
Provides light-weight inherent barrier protection against hazardous particles

Good for industrial workers in a variety of applications and environmental cleanups

Helps protect workers against small size hazardous particles

Provides excellent abrasion resistance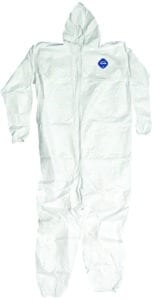 Face Protection Head Spray Sock
Soft, cool, head protection in comfortable 3-way stretch cotton. Sock hood will stretch to cover nose and mouth, or it can be worn with most respirators.
Ideal for sealcoating and painters
Protects hair and face from paint overspray
One Size Fits All
High Visibility Safety vest
An economical solution to meet workplace safety requirements made with Ultra-Cool mesh fabric.
Ultra-Cool design
ANSI Class 2 compliant
2-inch VizLite silver reflective material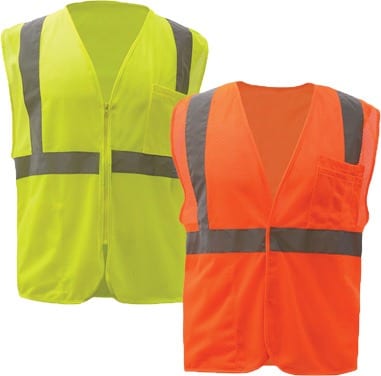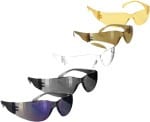 High impact hard scratch resistant lens coating. Polycarbonate safety glasses offer 99% UV protection. High quality optics offer extreme clarity with no distortion
Clear + multiple tints available
9.5 base curve offers great wrap around protection
Meets the requirements of ANSI Z87.1
Scrubs-In-A-Bucket Hand Cleaner
Strong, dual-textured towel thoroughly cleans hands and surfaces. Citrus-scented formula loosens and dissolves; Dirt, Tar, Oils, Grease, Paints, Adhesives and Asphalt.
Clean, citrus fragrance
For use on hands & surfaces
No sticky residue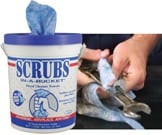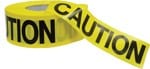 Tough, contractor-grade roll of Caution Tape measures 3 in. wide by 300 ft. long. Bright yellow with a bold black print, the tape offers easy visibility to help ensure safety on your job site.
Useful for setting up warnings and zoning off areas
Contractor-grade polyurethane is job-site tough
Bold, black print on a bright yellow background is easy to see
High Quality Parts & Equipment Keep You & Your Crew Working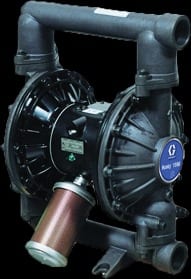 The Husky 1590 air-operated diaphragm pump features a high-reliability closed center air valve that is online serviceable and an epoxy-coated air section for tough environmental conditions. (Graco P/N DB3GGG)
Up to 5 times longer diaphragm life compared to other diaphragm pumps
Fewer parts than industry peers
Air valve is externally accessible & can be serviced easily without uninstalling the pump
Hand Rewind Hose Reel holds 175' of 3/4" hose. Designed for rugged, heavy-duty applications. All-bolted unitized construction with no welds to fatigue, full flow nickel-plated swivel and heavy-gauge steel frame, spool and drum ensure long service life.
Adjustable spool rotation drag eliminates hose backlash
Permanently lubricated dual main bearings
Vibration-proof self-locking fasteners to ensure assembly integrity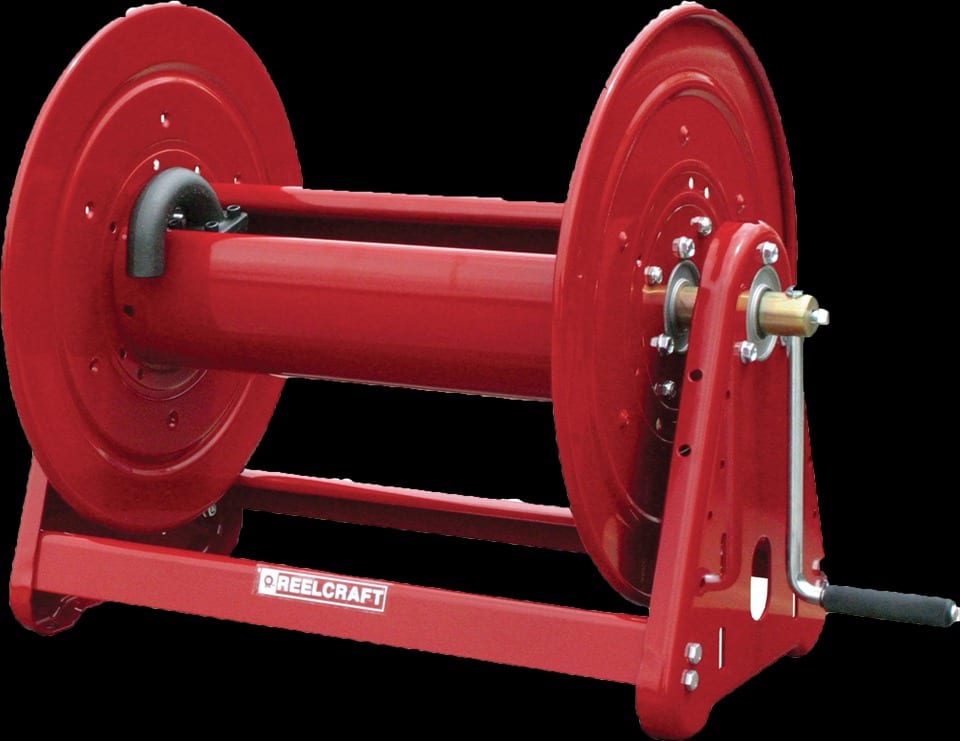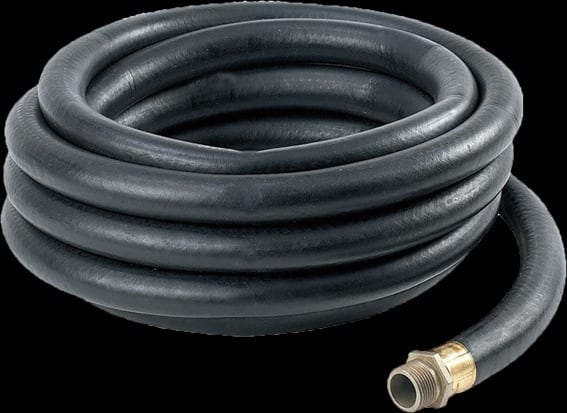 Premium 3/4" ID. 250 PSI reinforced rubber sealcoating spray hose assembly made with a 3/4" swivel MNPT crimped fitting on each end to help prevent twisting and kinking of the hose.
Premium High-Pressure Sealcoating Spray Hose
250 PSI Working Pressure
¾" MNPT Crimped Brass Swivel Hose end to connect to the Pump and wand
Hayward 2" Strainer w/Basket
2" simplex basket strainer. Made of stainless steel with NPT connections has a large capacity basket for less down-time and fewer basket cleanings. Basket seats are precision machined.
Thick walls
Quick-open cover and threaded drain
Includes basket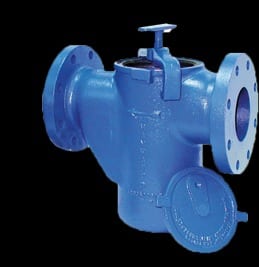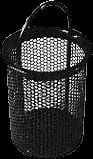 Replacement Filter Basket
Simplex basket strainers are used where the line can be shut down for short periods to clean or change baskets. Strainer is a high quality, heavy duty unit that will stand up to the most demanding of applications.
ISO 9001-2008 quality management
Properly sized components to meet any specified retention requirement and flow rate
Ultra low discharge strainer technology that offers reduced purged volumes
Hardened Steel Spray Tip is long-lasting and economical.
Various sizes 80/20 - 80/70 available
1/4" tips available
Quantity discounts available


Hot dipped galvanized malleable iron hex bushing reducer for mounting spray tips on wand ends. Meets ASTM A197 & ANSI/ASME B1.20.1 & B16.3
National pipe taper (NPT) threads
1/4" size available
Working pressure: 150 psi
Black malleable iron 90° elbow is suitable for use with sealcoating and air applications. The elbow uses female threaded connections that complies with ANSI B 1.20.1 specifications. The elbow also features a maximum working pressure of 500 psi.
Malleable iron class 150 lb.
Changes the direction of flow by 90°
Threads comply with ANSI B1.20.1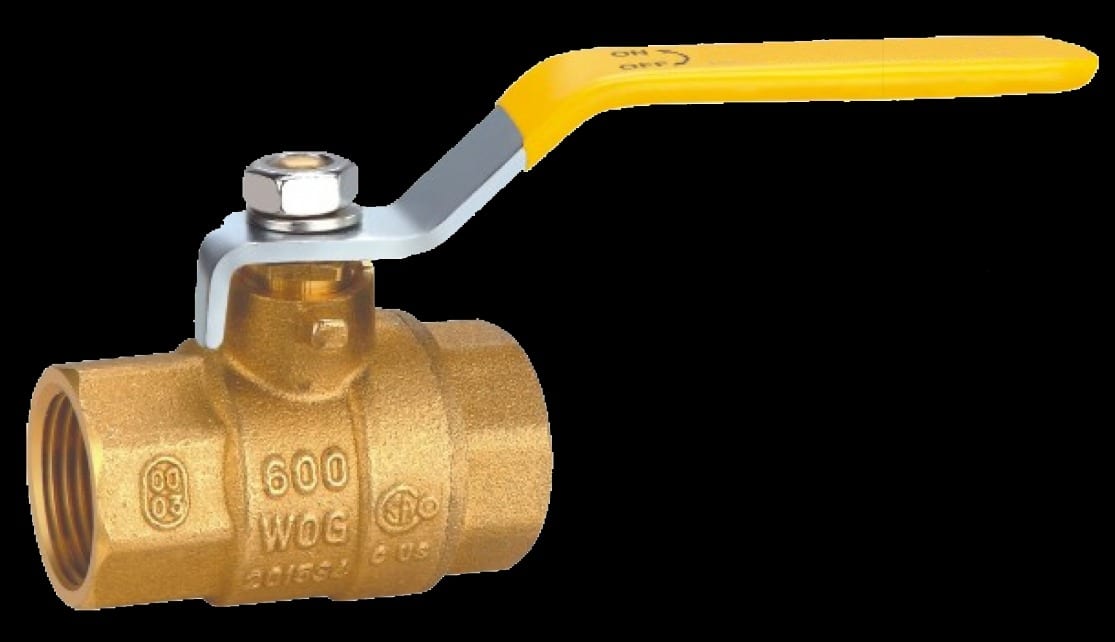 Lead free ball valve is forged from bass and includes a lever handle with female connections on both ends. Perfect for sealcoating, air, gas, oil or water applications. Designed for minimum pressure drops. Valve is corrosion resistant.
Forged brass body
Full port ball
Quarter-turn operation
Completely assembled spray wand is ready to go. Lightweight aluminum pipe is easy to hold for longer periods of time. Good idea to keep a spare handy.
Aluminum pipe for lightest weight
High quality brass ball valve
Elbow, bushing and one spray tip included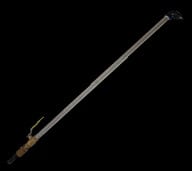 Download a copy of our Material/Machinery & Equipment Catalog
We provide a convenient and comprehensive list of all our manufactured materials and available products & equipment. We stock everything you need to get your job done right!
Download a copy of our Sealcoating & Striping Guidelines Booklet
We've worked hard to provide the best possible information for you, our customer and trusted local contractor, so that you can be the best possible source of pavement maintenance for YOUR customer.