SOUTH FLORIDA'S BEST SOURCE FOR ALL YOUR PAVEMENT MAINTENANCE EQUIPMENT AND SUPPLIES
Our Original Commitment of "Nothing But The Best" Remains as Strong as Ever!
We service and support the equipment that we sell and understand that YOU, our customer, must get the highest value for your dollar. We, the manufacturer and supplier, stand ready to prove our high quality products will give you the value you deserve!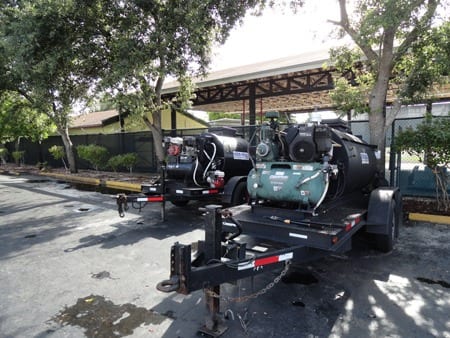 We are a Certified Distributor for "The First Choice" of professional contractors who want the industry's best striping units. No one does it better than Graco!
PROVEN QUALITY
Each LineLazer striper boasts Graco quality and dependability that you can count on. For more than 25 years striping contractors have turned to Graco.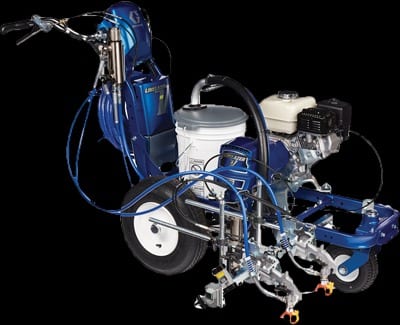 Airless Line Striper (PN 17H455)
The LineLazer V 5900 is designed for 2-gun professional stripers, delivering the most precise & consistent lines in the industry.
Get The 2nd Gun Free!
EasyMark Gun Adjustment System
EZ Align Front Wheel System
LiveLook Display with SmartControl
Airless Line Striper (PN 17H450)
The LineLazer V 3900 is the preferred choice of pros for a wide variety of pavement marking applications.
Get The 2nd Gun Free!
EasyMark Gun Adjustment System
EZ Align Front Wheel System
LiveLook Display with SmartControl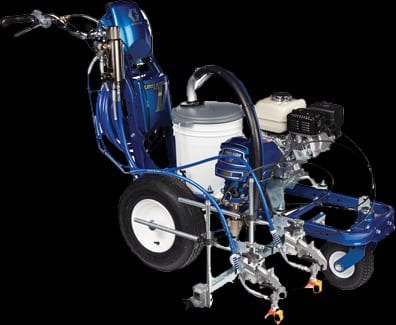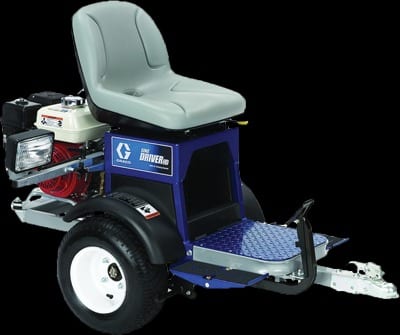 Ride-On System for Line Striping (PN 262005)
Why walk when you can ride? Connect LineDriver to your LineLazer striper & double your striping production. LineDrivers are engineered to meet your needs, changing the way you work while finishing jobs in half the time.
Exclusive dual pedal design (patented) for forward and reverse
Forward speeds to 10 mph, reverse speeds to 6 mph
Exclusive FlexBeam Break-A-Way Light System is fully adjustable for all types of low light conditions
Airless Line Striper (PN 25M224)
The preferred choice of parking lot & seal coating contractors who are looking for professional grade performance in a one-gun machine that is easy to use and maintain.
Endurance Pump. Industry-best pump performance in this field-proven design
EasyOut Pump Filter. Large filtering area reduces tip clogs and ensures paint quality
Includes Flex Plus Striping Gun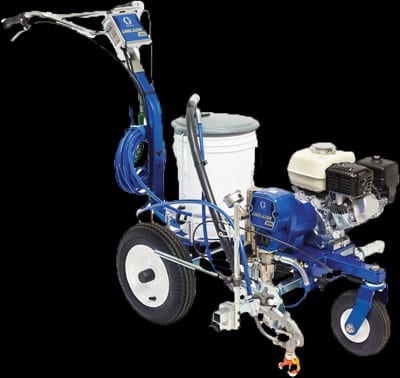 INDUSTRY LEADING WARRANTY
Every Graco striping system is backed by our full warranty coverage & more than 85 years of proven commitment to the professional contractor.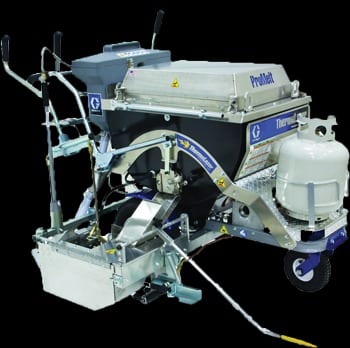 Thermoplastic Handliner (PN 24H623)
A user-friendly and innovative thermoplastic striper. EasyGlide Wheel Mount System makes this unit as easy to maneuver as a LineLazer.
Includes 4" SmartDie II
QuadMelt System - Four chamber system can melt 300 lbs of material in less than 1 hour
SplitBead Hopper - Holds over 90 lbs (40 kg) of reflective glass beads
ControlFlow System - Precise material flow control with a squeeze of a lever
Graco ThermoLazer Smart Die II System
Hardened steel - built to last! (PN 24H623)
Built using heavy-duty steel, and with no springs, this die can remain on the unit, be cleaned on the ThermoLazer. The exclusive, 'spring-less' design allows the die to "float" on the striping surface
Available in 6" and 12" SmartDie II Sizes
Unique design "floats" with the surface, putting the thermoplastic where you want it
Use with or without heat so that you can optimize your striping in all weather conditions
Standard on ThermoLazer 300tc and ProMelt Systems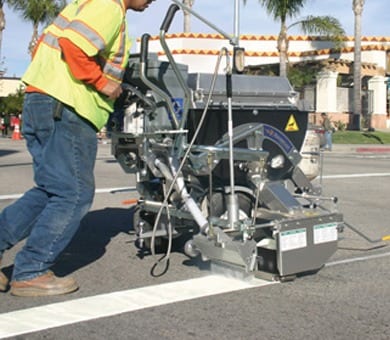 UNMATCHED PRODUCTIVITY
Superior design, innovative technology means you'll be getting the highest productivity—only from Graco. We stand by our products and don't settle for less than the best.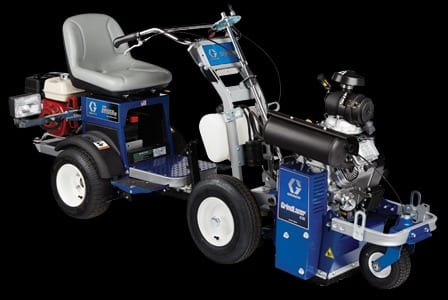 Highest Performance (PN 571265)
Ideal for removing traffic paint, thermoplastic, epoxy coatings, & smoothing uneven surfaces. Extra power for inlay and grooving.
Available w/LineDriver HD System
Centrifugal clutch allows easy starting and shut off of cutters
Fully Adjustable Ease-Z-Steer™ Handle Bar System
TriBelt™ Drive System—3-cog belt design optimizes power transfer and maximum load handling
Superior Grinding Solution (PN 571003)
Ideal for removing traffic paint, thermoplastic, epoxy coatings & smoothing uneven pavement surfaces.
Comes with 10" 6 Point Miller Carbide Cutter
DialDown Depth Control System - "Forward Cut" precise cutting depth with multiple position depth control
Pneumatic air-filled tires, comfort grips, LineLazer-like cart design
TriBelt™ Drive System—3-cog belt design optimizes power transfer and maximum load handling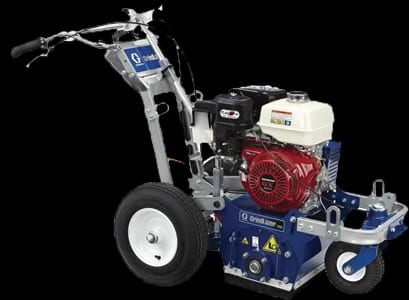 We are a Certified Distributor for Billy Goat!
Powerful, Economical, Efficient and Long Lasting Commercial Blowers. The industry's choice for high quality cleaning and lot preparation.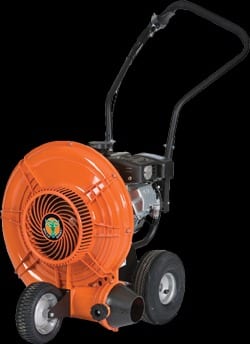 The next level of performance and productivity in economical push blowers. Forget the fatigue factor associated with heavy metal machines, these models are a remarkable 30% lighter than comparable steel units and weigh only 76 lbs. making them a breeze to roll around the yard.
Rounded composite housings with 16-blade advanced fan technology
No rusting or denting and less stress on the engine shaft for longer life
The F601 features a 205cc Vanguard engine
Patented Aim-n-Shoot™ airflow technology
F10 Large Property/Commercial Blower
Commercial clean-up power, ideal for medium size maintenance contractors and large property owners. Forget the fatigue associated with pushing blowers. The 305cc engine is built to to increase productivity so you can rip through 30% more property a day!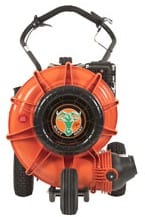 Smooth, quiet, powerful airflow
Proven design won't rust or dent
Backed by a limited 5-year warranty
The F10 features a 305cc Vanguard engine
Patented Aim-n-Shoot™ airflow technology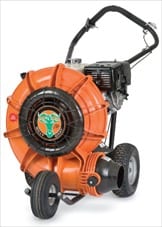 F13 Commercial/Municipal Blower
Commercial Professional power and productivity, this Honda powered unit is a favorite for full size landscapers, seal coaters, schools, parks departments, cemeteries, resorts, street departments and golf and estate properties.
Smooth, quiet, powerful airflow
Forward discharge included; soft rubber design is a snap to install and is perfect for cleaning curbs and along walls and fences.
The F13 features a 390cc Honda engine
Patented Aim-n-Shoot™ airflow technology
Norton Clipper has been a trusted equipment source on the jobsite for over 130 years and a leader of product innovations in cutting and grinding applications.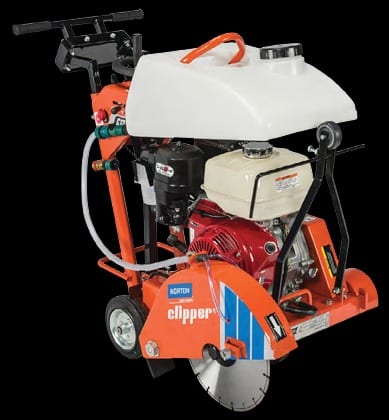 C1318P Walk Behind Street Saw
The next generation of 13HP saws features shock-absorbing handle bars. The new sleek design of the water tank, with increased capacity and improved securing, adds an additional 1.5 gallons of water over the cut. And, a newly-designed belt tensioning system helps keep the saw cutting tried and true. All these features, coupled with the Honda 13HP engine, makes the C1318P the premiere choice for rental and service work.
Vibration Reducing Handle Bars; Shock-absorbing handle bars reduce 40% more vibration
Quick Belt Tensioning provides fast and accurate belt tensioning
Fast Blade Guard Lock no hassle, blade guard securing lock
Reliable 13HP Honda engine
Asphalt and Concrete Saw Blades
We carry saw blades to cut concrete and asphalt. We carry the blades you need - one stop means you get on the job site sooner!
Long lasting Norton quality blades
Sold individually or in box of 10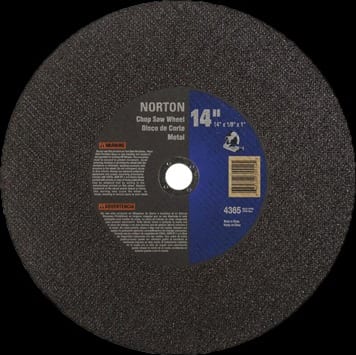 You need machines you can rely on - that's why we carry Bomag! Providing specialized, easy handling, robust and safe equipment for decades.
Bomag BVP-18/45 Plate Compactor
Compact and versatile unit is indispensable for day-to-day use on the most frequent applications in repair and maintenance works, earth- works, asphalt and paving. Developed for contractors who demand BOMAG quality!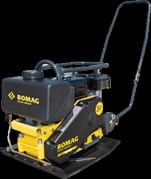 Removable water tank on the BP/BVP series has a larger capacity and is even equipped with a level indicator
Wheel kit for easy job site handling, loading and unloading
Hinged guide handle is mounted on effective "silentblock" rubber mounts which reduce hand/arm vibrations
Download a copy of our Material/Machinery & Equipment Catalog
We provide a convenient and comprehensive list of all our manufactured materials and available products & equipment. We stock everything you need to get your job done right!
Download a copy of our Sealcoating & Striping Guidelines Booklet
We've worked hard to provide the best possible information for you, our customer and trusted local contractor, so that you can be the best possible source of pavement maintenance for YOUR customer.